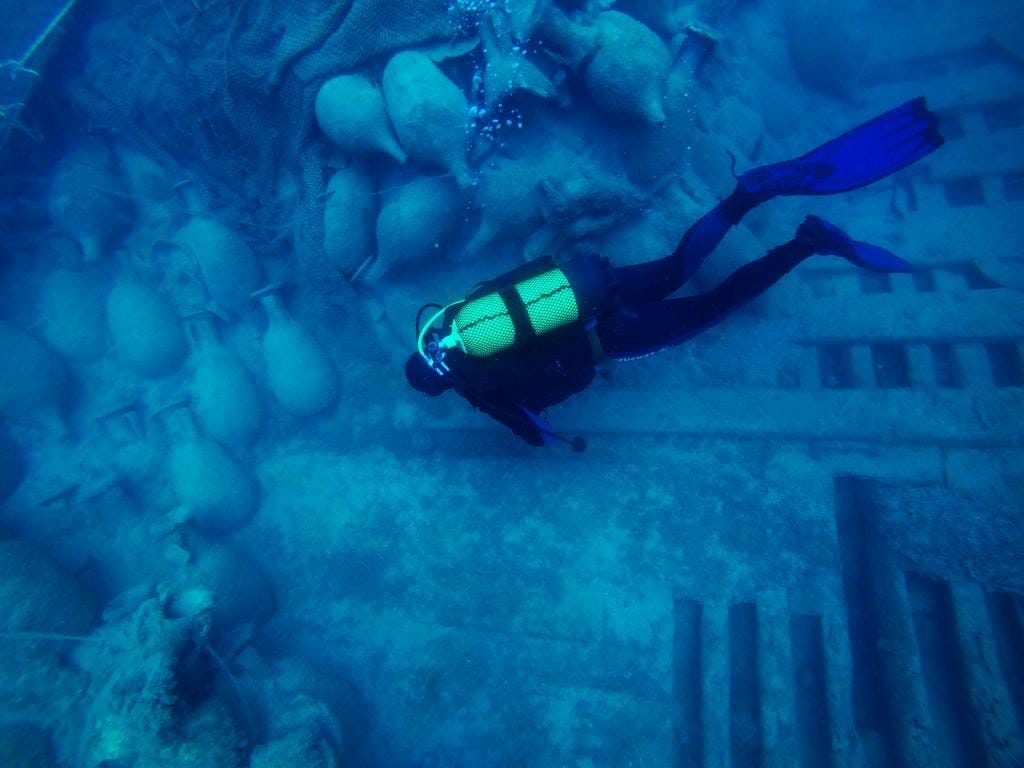 Bou Ferrer, the largest roman wreck in the Mediterranean
The Bou Ferrer Wreck is a Roman shipwreck of the 1st c. CE found at a depth of approximately 25 meters and is located nearly 1000 meters from the coast, in front of the beaches of Villajoyosa (Alicante).
The ship was likely en route from southern Spain to Italy when it was struck by a squall, whereupon it tried to find refuge on shore, but sank before it could reach shelter. Underwater excavations have revealed a large ancient commercial vessel approximately 30 meters in length and 9 meters in breadth transporting a cargo of more than 230 tons, making the Bou Ferrer Wreck the largest ancient shipwreck of its kind currently in the process of excavation.
The visits to the Archeologic underwater site of Bou Ferrer are unique, as they offer divers the possibility of observing the works of an ongoing archaeological site on the biggest roman ship wreck in the Mediterranean Sea, dated 64-68 A.C.
Bou Ferrer's main load was 2500 handmade amphoras from Puerto Real de Cádiz and pure lead ingots which would be used to reconstruct water pipes in Rome after the city was burnt in 64 A.C. Each amphora was carrying about 40 litres of "garum", a sauce made of species and fish, coming from the Betic Roman City. The cargo is believed to belong to Neron, the Roman Emperor.  
Since the discovery of the ship in 1999, The Bou Ferrer Project has developed a multi-pronged effort to provide access to the site. This effort has taken various forms, such as:
Public visits to the site: since 2013, the Bou Ferrer Project has conducted an annual outreach program, inviting recreational divers to visit the site under the careful supervision of trained archaeologists. This is truly a unique opportunity, as the Bou Ferrer Wreck is the only ancient archaeological shipwreck in all of Spain that is open to the public. Being an open archaeological site, recreational diving is only permited in Bou Ferrer during a couple of months each year. The visits during the digs are patrolled and supervised by the archaeologists. Ali-Sub, the only diving centre allowed for these dives, publishes the diving calendar on their website www.ali-sub.com/en/pecio-bou-ferrer

Public access to the archaeological materials: as well as inviting the public to the site, the Bou Ferrer Project has sought to bring the site to the public in coordination with the Museum of Villajoyosa through a coordinated effort of museum displays, public presentations and lectures, all designed to increase public awareness and education.
Characteristics:
Access by boat.

-25 m maximum depth.

Age I A.D.

30m lenght and 9 meters breadth.

Cargo: 230 tons. 2500 handmade amphora, 40 litres each.
Requirements:
Flashlight.

Special permission required.

Advanced Open Water Certification Level, B2E or Deep Diver Certification.

35 logged dives.

Medical certificate.

Dive insurance.
Further information: