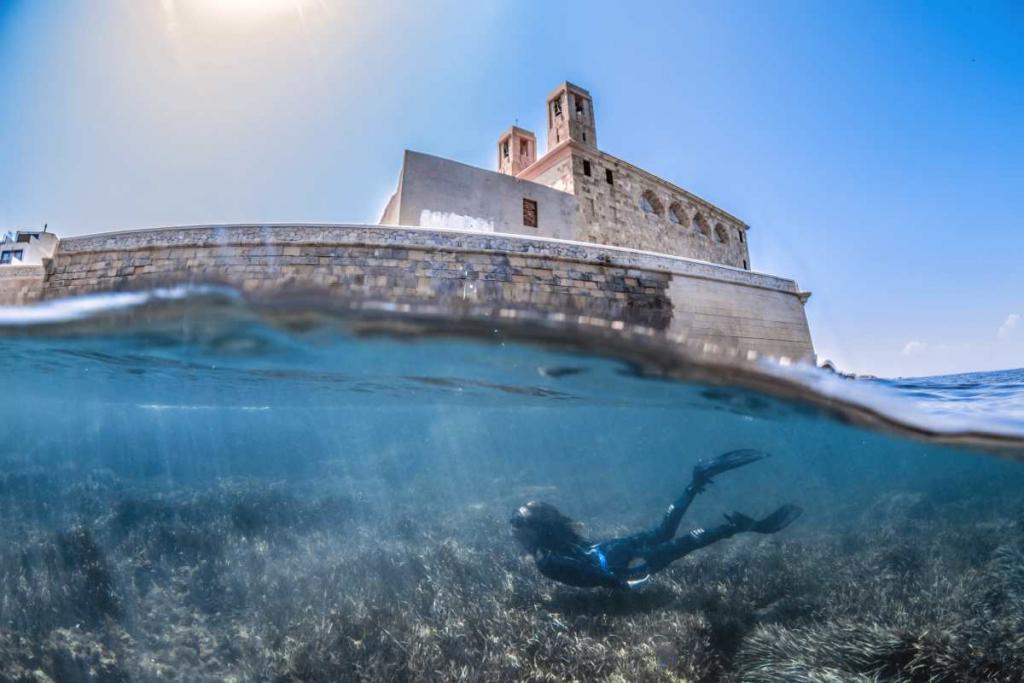 Discover the secrets of the Mediterranean by snorkelling in the Region of Valencia
One of the most important attractions of the Region of Valencia is its long coast, with almost 600 kilometres of coastline bathed by the Mediterranean Sea.
In this post you will discover the hidden secrets of the Mediterranean through a selection of snorkelling routes in the Region of Valencia that will guide you through various underwater habitats. We will show you beaches, islets and caves with interestingly shaped rocky floors covered with green algae, orange sponges, red starfish and chameleon-like octopuses and cuttlefish. You'll swim over meadows of seagrass, the planet's oldest living being, accompanied by damselfish, fluorescent green fish and shoals of salps and saddled seabream. In some places you may even spot the enigmatic sunfish when it comes to the surface to bask in the sun, or elusive torpedo rays and sea turtles coasting over the sandy seabed.
And now that you have an idea about what there is to admire under the Mediterranean Sea, how about we tell you the region's best snorkelling routes so that you can discover them? From southern Alicante to northern Castellón, we offer you a selection of the most attractive routes with detailed information about their itinerary:
Las Canteras Romanas (Pilar de la Horadada)
This route begins on the sandy beach of Mil Palmeras in Pilar de la Horadada and includes a Roman quarry from the 1st century BC. Leaving the rocky wall of the sea shore to our right, we head southward along the coastline to explore a varied rocky seabed with patches of sand until we reach the stony headland, which is where we turn back. As well as being classed as an accessible beach, Mil Palmeras has plenty of services for bathers and as of September it offers a programme of free sports activities. You can find other snorkelling routes in the area, in addition to the programme of activities, at Visit Pilar de la Horadada. 
Tabarca (Access by water taxi from Santa Pola and Alicante)
Tabarca is an island bathed in crystal-clear waters, with extensive Posidonia seagrass meadows and spectacular marine biodiversity. It was the first Marine Reserve to be declared in Spain in 1986 and it is the only inhabited island of the Region of Valencia. The suggested route starts in the rocky cove below the fortified church and follows the coastline to the foot of the walls of the church. The route takes in an extensive Posidonia oceánica seagrass meadow which, as you know, is not an alga but an actual plant that releases much more oxygen into the atmosphere than its equivalent in tropical rainforest and it is also home to more than 300 species of flora and 1000 species of fauna. For more information about Tabarca see Alicante Turismo.
La Illeta dels Banyets or Los Baños de la Reina (El Campello)
If you fancy exploring an archaeological site with your snorkel, we suggest a route that takes you into Roman fish bins that are connected to one another under the water. It is reached from the small beach to the south of the little isthmus of "La Illeta dels Banyets", which is situated after the Yacht Club at the foot of the Torre de la Illeta. Although you can follow this route at any time of the year, we recommend visiting it from May to October, as it is marked by buoys during this period and the town council offers free underwater audio guides. Other interesting snorkelling routes in El Campello include La Cova del Llop Marí, the Artificial Reef and Venta Lanuza, all of which are described in the snorkelling brochures provided at El Campello Turismo.
Playa de Los Estudiantes (La Vila Joiosa)
The beach of Los Estudiantes, also known as Playa Varadero, lies next to the Yacht Club of La Vila Joiosa and offers all the necessary services for bathers. The bollard that emerges from the water at the southern end of the beach is an excellent starting point for a snorkelling route that takes us southward along walls carpeted with algae and sponges that are inhabited by shoals of fish. The details of this and other routes, such as Racó del Conill, Puntes del Moro, L'Esparrelló, La Caleta and El Xarco, can be downloaded in the snorkelling brochure available at La Vila Turística. 
Cala del Tio Ximo (Benidorm)
Cala del Tio Ximo is a little spot in the heart of the Serra Gelada Natural Park, hidden away from the noise of Benidorm, which is an excellent place for exploring the Mediterranean with a snorkel. This sheltered SW-facing cove offers a circular route in transparent waters that takes you across an immaculate stretch of sand to explore the nooks and crannies of the cliff on the left before crossing the cove over a seabed covered in Posidonia seagrass that leads to sand and rock, they you head for the opposite cliff to return to the starting point. Other interesting snorkelling routes in Benidorm include Almadraba, Mal Pas and the ever-surprising Benidorm Island. The diagram and route for all these can be downloaded from Visit Benidorm.
Mascarat (Altea)
This little south-facing cove is protected by a breakwater to the right and a mountainous point to the left, from which the route starts, taking us over areas of Posidonia seagrass and bright sandy patches. As we swim on, we come to a series of large rocks that offer protection to elusive octopuses and white bream. To access this quiet cove you will have to head to the Luis Campomanes Marina and, without actually going in, look for the fork that takes you to Mascarat. Altea also offers other routes with which to explore the seabed of the Serra Gelada Natural Park, such as La Olla, Cap Negret and La Solsida,all of which are described at Visit Altea.
Cala El Racó (Calpe)
Cala Racó is an ideal setting in which to snorkel due to its seabed and its spectacular south-facing location sheltered from the easterly winds and at the foot of the cliffs of the Peñón d'Ifach. We enter the sea from the beach and follow the cliff on the left to explore the seabed lined with rocks and Posidonia seagrass meadows, which drops down to a shipwrecked fishing boat at a depth of 7 metres. Before doing this route, it is recommended that you should look at the detailed description given in the snorkelling brochures available at Calpe, which also include other spectacular snorkelling routes that are only accessible by boat.
L'Advocat – El Baladrar (Benissa)
The cove of L'Advocat, next to the pretty Baladrar cove, meets all the requirements for spending a day at the beach snorkelling with the family. There is a sandy area protected by a small breakwater and a wonderful underwater environment marked by El Cantalar, a 47-metre cliff that drops into the sea. You can reach the water via the steps by the rocks and from there, running parallel to the breakwater, Posidonia seagrass meadows appear among groups of rocks whimsically arranged to form passageways and nooks and crannies. Other areas that are perfect for snorkelling in Benissa are Les Bassetes, La Fustera, Els Pinets and La Llobella. All of them are linked by the "Ecology trail", which has information panels about the biodiversity, geological richness and local culture related to the sea. A detailed description of the trail and snorkelling routes is available at Benissa.
Cap Blanc (Teulada-Moraira)
At the southern end of the little town of Moraira lies Cap Blanc, with spectacular views of the Peñón de Ifach. We reach this route via a residential area, at the end of Calle Cabo de Gata, taking the steps that lead down to the sea. Octopuses, starfish, salps, sea fans and Posidonia seagrass are some of the species you can find in Cap Blanc. Other spectacular snorkelling spots in Moraira include Andrago, Portet and Moraig, all of which are described in the snorkelling brochure that can be downloaded from Turismo Teulada Moraira.
Cala Barraca (Xàbia)
This little cove is one of the Region of Valencia's most characterful coastal enclaves. It is reached via a pebbly beach leading to a rocky platform with submerged islets and Posidonia seagrass meadows. Other spectacular coves in Xábia are Granadella, Cova Tallada, Cala Tangó, Cala Blanca and Cala Ambolo. You can download the map of coves and snorkelling areas at Xàbia.
Other fantastic coves where you can enjoy snorkelling, but that you will have to explore for yourself as there is no published itinerary, include: El Fresquito (Dènia), El Dossel-Faro (Cullera), La Renegà (Oropesa), Cala Mundina (Alcalà de Xivert-Alcossebre) and La Grossa Interior in the Marine Reserve of the Columbretes Islands (Castellón). The latter is only accessible by boat, with a two-hour boat ride from Castellón or Alcossebre.
However, we recommend that you make the most of your snorkelling gear and allow yourself to be guided by expert divers who will show you all the secrets of our Mediterranean. To give a few examples, these are some of the companies that offer guided trips in the region: Celacanto, Ali-sub y Scuba Elx.
Lastly, before we reach the end of this post we must remind you that in order to enjoy the marine environment you need to be especially careful about your safety. Always dive with someone else, observe the beach safety flags and don't swim out beyond the buoys that mark bathing areas (if it's not marked, indicate your position with a buoy). It's very important not to touch the seabed with your hands or fins, or to handle starfish, sea snails or shells, as they could be sheltering other species. Bearing in mind these considerations, we'd like to welcome you to our beloved blue world.